Polyphony Video
Invest in the technology of the future!
Startup projects and the established business
Multi-camera live broadcasts - art or business?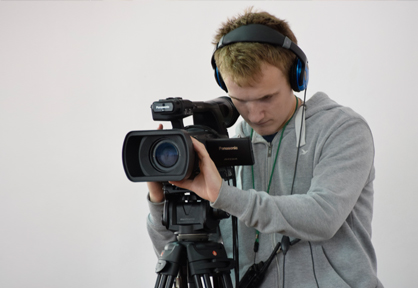 We are a group of active and talented students working under the guidance of experienced teachers. We are doing our favorite job - television reporting multi-camera live broadcasts, and we turn it into a business.
The need for low-budget high quality live event broadcasting on television channels and on the Internet is huge! It is the typical student creativity and Business Project, because there are few professional agencies of such specialization, and there are no student ones at all.
This is an established business. And that's why it's attractive.
We are waiting for your investment!
What is needed for a high-quality broadcast?
First of all, one needs a well-trained team of professionals! This team will provide the customer with the artistic storyboard in the real-time mode. It must have such features as compositional surprises (unexpected shooting points , the actors' emotions, spectators, show hosts, greenroom guests, etc.), modern palette (Full-HD, etc.), and of course the strict accordance with the predicted tracing of the fundamental episodes. A lot of cameras are needed in order to realize this – usually.
Кратко о бизнесе
Проект многокамерных прямых трансляций, проморолик проекта, режиссер-разработчик - Руслан Николенко, СумДУ, ОГТРК, Монолог, 2016
What are works of art in our field?
RSLOur3LVf4
Only 16:9 video resolution? - No
Perfect lighting? - No
Best cameras in the world? - No
Only Full HD signal? – No
Then what?..

Our "Gopak" answers this question.
Online directing with no right to edit, instant cameramen team creativity, full resonance of the dynamics of the event and frame changes, stunning storyboard... In short, a sort of orchestral art where violins and batons are replaced with camera, switching systems, wires, keys and signals... And most importantly – a team of professionals.
The author of the video – production director Lyudmila Krivomaz, project's business partner.
The mobile TV studio
An expensive "bus" is, of course, good. But as a rule, such a "toy" is costly and stays idle for months. Large-scale events are a rare occasion in regional and district centers. More rarely they're visited by a "miracle" worth $ 1 million – stays idle.
But people want to create! A the viewer wants to get the beauty and sense of implication. Naturally, through live broadcasts. Aren't there any opportunities for students to carry out multi-camera live broadcasts?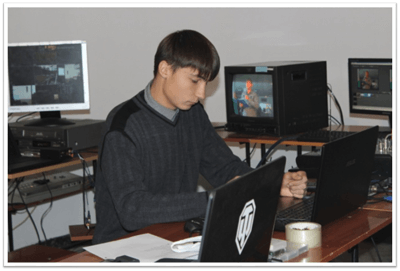 We created a MTS simulator - a budget tool, that allows trainees to work with multiple cameras (16 and over). The simulator is simple to set up and use. It can be used for recording and broadcasting of events in specialized concert halls as well as at open areas in the field.

We are not working on the best equipment in Ukraine ... But we have an impeccable reputation and high skills. So - we are promising!